Cleaning and Sanitizing Equipment: Nitty Gritty Details to Consider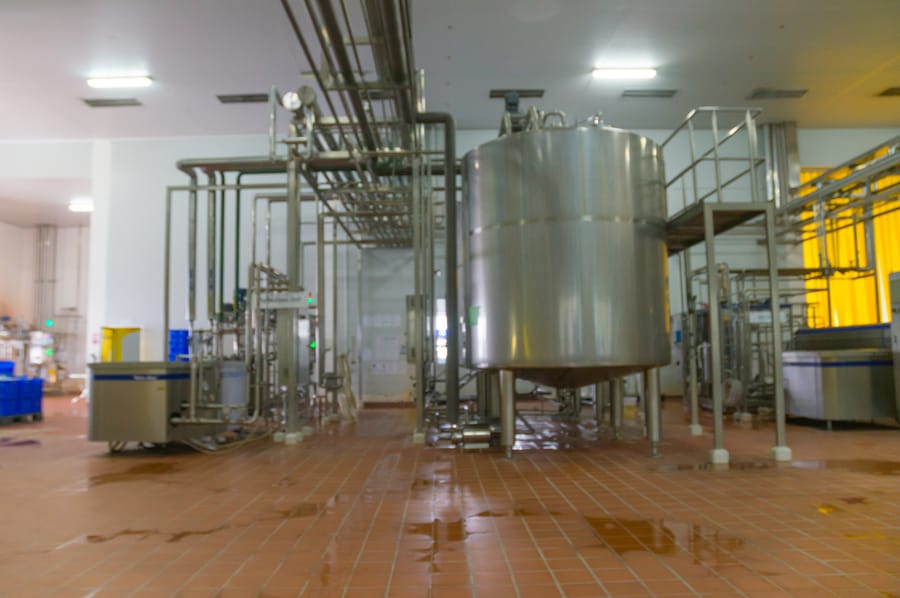 As a food manufacturer, nothing is more important to you than making sure the food you're producing is safe for people to consume. And besides working in the food industry, you're also a consumer. When you're in the grocery store shopping for your own food, you're trusting that food manufacturers like you are following the right procedures and cleaning their equipment properly.
But sometimes it isn't always clear just what you need to do to fully sanitize food processing equipment. And some employees may even think that giving the equipment a quick once-through with sanitizer will be enough to do the trick.
If you're trying to improve your cleaning procedures or just want a refresher to make sure all your employees are cleaning to the proper standard, keep reading to learn how to properly clean and sanitize equipment in your food processing plant.
Why are Cleaning and Sanitation Procedures in the Food Industry Important?
People buy your products. Thousands (if not millions) of consumers trust your brand and rely on your products to help feed themselves and their families. But what happens if people start getting sick from your products as a result of a contamination?
Thanks to poor cleaning standards, negative publicity and a reduction in sales will replace the trust and credibility you had worked hard to establish with consumers.
On top of all that, your processing plant could face legal trouble. All food manufacturing companies are held to both national and local legal requirements, and a contamination jeopardizing the food quality and health of consumers could mean expensive legal action.
When proper cleaning and sanitation procedures are followed, food manufacturers can avoid legal action and keep customers happy and loyal to their brand.
Cleaning and Sanitizing Equipment
The Purpose
The ultimate goal of cleaning and sanitizing equipment is to make sure any particles that can contaminate your food products have been removed. Your employees are cleaning to:
Physically remove dirt and particles from the equipment (you want your equipment to look spotless to the naked eye)
Remove residues from equipment you may not be able to see, but can smell
Destroy bacteria and microorganisms
Steps to Cleaning and Sanitizing Equipment
Remove product residue from your food processing equipment. This means scraping off the residue or using water or compressed air if your equipment surface doesn't tolerate scraping.
Pre-rinse with water to get rid of loose soil and deposits. This type of soil can include fats, oils, greases, proteins, algae, or fungi.
Clean with detergent to remove chemicals and residue not visible to the naked eye. Detergents can contain up to 15 components and the type of detergent you use depends on a lot of different factors, including: soil type, equipment surface, temperature, and water hardness.
Use a disinfectant to kill off any other dangerous microorganisms. Detergent works to remove soils and residue, but dangerous microorganisms that can lead to food contamination are oftentimes left behind. Disinfection picks up where detergent left off to remove these microorganisms. Since there are different types of disinfectants and some will be better for your equipment than others, it's cost-effective to work with a supplier to determine the right product for your needs.
When considering how best to clean your manufacturing equipment, keep in mind sanitizers that serve as both a detergent and disinfectant. Work with your team, talk with suppliers, and check out product reviews to determine if a sanitizer or the two-step approach with a separate detergent and disinfectant is best for your machinery.
Types of Cleaning
Manual Cleaning. As the name suggests, this is the most time-intensive type of cleaning where your employees will use rags, brushes, mops, and other tools to clean machinery that isn't water proof or needs to be dismantled.
Foam Cleaning. This is the most common way to apply detergent on most food processing equipment, and can be used on large areas like floors, walls, and production equipment.
Fogging. Aerial fogging is used alongside other cleaning methods to release a mist of disinfectant into the air to kill airborne particles and reduce bacteria on equipment.
How to Ensure High Quality, Consistent Cleaning Occurs
Your cleaning procedures need to be perfect each time they're performed for the sake of your food quality and success of your business. A Clean In Place (CIP) system can automate much of the process for you. But, if your food processing plant isn't compatible with a CIP system, here's what you should do every time you clean your equipment:
Educate your employees on a regular basis about the benefits of maintaining high cleaning standards.
Develop training materials to get new employees ramped up on the cleaning procedures as quickly and efficiently as possible.
Leverage a monitoring program to ensure procedures are followed. This monitoring program can include visual inspection and chemical testing.
Document each and every cleaning and its results, and search for ways to improve procedures where possible.
Zwirner Equipment Offers Cost-Effective Stainless-Steel Equipment
Tired of a long, manual cleaning process or just looking to upgrade your food processing equipment? At Zwirner Equipment, we provide high-quality, reconditioned stainless steel tanks and other equipment that is easier to clean and will help your food processing plant shine when inspected. Learn more about our stainless-steel processing equipment and request a quote online today.